Business Resources > Incubators
History

Warren County's history acknowledges strong entrepreneurial spirit which has resulted in the growth of some of our top employers from basement and backyard garage beginnings into multi-national corporations.

The WCCBI encourages and supports the continuation of this spirit through the operation of the Warren County Industrial Complex. Located at 4 Harmer Street, Warren, immediately adjacent to Route 6, this facility houses a wide range of tenants at competitive lease rates. In addition to the affordable cost of the facilities, a business resource center is provided to the tenants. This center eliminates the need for tenants to invest in non-production equipment such as copiers, fax machines, and postage meters.

The mission of the incubator facility is to provide low-cost operations to emerging businesses to enable additional investment into the businesses to allow them to grow and prosper over the initial 3 to 5 years of operation. After this initial start-up period, the WCCBI works with individual businesses to identify and facilitate a move into private space within Warren County. This "graduation" process provides both a manageable transition for the business while maintaining a continual turnover of incubator space to support the growth and development of additional new businesses.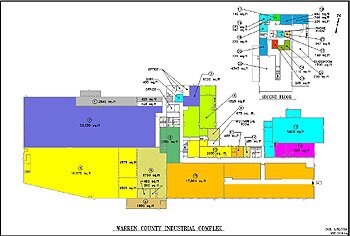 Click to bring up the full-size version
Space Number
Current Occupant
Space Type
Square Footage
Main Floor
1
G&S Graphics
Production
2,540
2
Highland Group
Warehouse
23,230
3
CNE Machinery Ltd.
Production
10,675
4
Dalton's Powdercoating
Production
1,600
5
Available
Production
5,700
6
Dalcor Associates
Production
2,350
7
All-Sound Recording
Production
1,030
8
Good Turn Machine
Production
4,525
9
Available
Production
675
10
Available
Production
2,050
11
Cardinal Industrial Finishes
Office
480
12
Available
Office
285
13
Available
Production
5,400
14
Bonded Services
Production
1,500
15
Cardinal Industrial Finishes
Production
17,000
Second Floor
16
Hampson Surveying
Office
410
17
Remtek Services
Office
140
18
Real World Fire/WCDA
Office
1,000
19
Warren County EMA/EMS
Office
220
20
Warren County EMA/EMS
Office
720
21
Warren County EMA/EMS
Office
140
22
Warren County EMA/EMS
Office
140
23
Warren County EMA/EMS
Office
205
24
Warren County EMA/EMS
Office
110
25
Warren County EMA/EMS
Office
210
26
Unfinished
Office
4,343
Back to Top

Tenants and Available Space
Current businesses operating in the incubator facility include:

Warren County Emergency Management Agency – providing all emergency management and training for Warren County


Bonded Services, Inc. – providing contract cleaning services to business and residential customers throughout Warren County (www.bondserv.com)


CNE Machinery, LTD. – Manufacturer of standard and custom-designed CNC routers and CNC lathes for the wood, metal, plastics and composite industries, as well as a line of CNC stone cutting machinery (www.cncmotion.com)


Cardinal Industrial Finishes – manufacturer/mixer of commercial paint products (www.cardinalpaint.com)


G&S Graphics – commercial printing


Good Turn Machine – Brown & Sharp and CNC machine shop manufacturing items such as pins, rivets, shafts, bolts, washers, nuts, valves, spacers, threaded rods and miscellaneous screw machine/CNC products ()


Real World Fire Training


Highland Group – Warehousing tenant


Allsound Recording – specialty recording studio


Hampson Surveying – Certified land surveying ()


Remtek Services, Inc.- commercial roofing and insulation company. (www.remtekservices.com)


Dalton's Powdercoating – full service custom powdercoating shop with more than 6,000 colors and textures
Back to Top


Over the past 5 years, several tenants have completed the graduation process. These businesses, all of which continue to thrive, include:

Windoworks – a manufacturer of custom vinyl replacement windows, Windoworks continues to expand both employment, product lines, and locations.

Great Lakes Custom Graphics – a custom clothing printer has acquired private space in Warren which they are quickly growing to fill.

R.C. Marketing – Beginning as strictly an engineering assistance operation, R.C. has moved into mold design and testing in a privately-owned facility.