Air Travel

Warren is just a half hour away from the Chautauqua County airport which provides free parking and frequent flights to Pittsburgh, a USAirways hub that has connections to most major airports. Popular departure options are the Erie International Airport and the newly-renovated Buffalo Airport.


Major Highways
Warren is between I-86 to the north in New York State, I-80 to the south and I-79 to the west. A short drive in those directions puts you on a high-speed, limited access interstate roadway.


Scenic Route 6
Historic Pennsylvania Route 6 makes its way through the heart of Warren County and intersects with Route 62 in the center of Warren. Route 6 was built as a major highway to link the eastern and western parts of the state long before I-80 was built. It is now a scenic motorway through the heart of small towns along the northern tier counties of Pennsylvania.
Public Transportation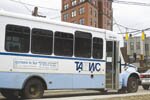 The Transit Authority of Warren County (TAWC) operates two routes within the City of Warren and neighboring townships Monday through Saturday, with exception to major holidays. TAWC bus stops include Warren General Hospital, the Warren Mall, and Warren Area High School, as well as stops in the Sheffield and Youngsville areas.
Railroads

Rail transportation in Warren County is used for freight transit.

Hike-Bike Trail
The Hike-Bike Trail connects historic downtown Warren to North Warren and stops just short of the Warren Mall. It is frequented by walkers, bikers, pet-owners, joggers, and rollerskaters/rollerbladers of all ages. Plans to extend the trail to connect to Russell on Route 62 North have been outlined.